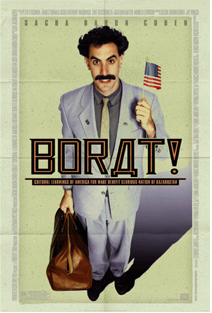 In Borat! The Movie (full name Borat: Cultural Learnings of America for Make Benefit Glorious Nation of Kazakhstan), Borat Sagdiyev, who claims to be a Kazakhstani journalist, travels to America in order to make a documentary about the United States, at the behest of the Kazakh Ministry of Information. This raises the question: is Borat an illegal alien?
For starters, Kazakhstan is not one of the visa waiver countries. Citizens of visa waiver countries are permitted to enter the U.S. for up-to 90 days or less for tourism or business. So, since Kazakhstan is not a visa waiver country, Borat Sagdiyev would need a visa to enter the U.S.
Now, if Borat Sagdiyev is an accredited member of the Kazakhstan media, he may qualify for an I visa, commonly known as a Media visa. The State Department explains the general requirements for an I visa as follows:
Under immigration law, media visas are for "representatives of the foreign media," including members of the press, radio, film or print industries, whose activities are essential to the foreign media function, such as reporters, film crews, editors and persons in similar occupations, traveling to the U.S. to engage in their profession. The applicant must be engaging in qualifying activities for a media organization having its home office in a foreign country.
In this regard, it should also be noted that if Borat Sagdiyev is a documentary, as opposed to an entertainment file, then an I visa would be a possibility. As the State Department explains:
Members of the media engaged in the production or distribution of film will only qualify for a media visa if the material being filmed will be used to disseminate information or news. Additionally, the primary source and distribution of funding must be outside the United States
Now, some people say that Borat Sagdiyev is actually a fictional character. That Borat Sagdiyev is really British comedian provocateur Sacha Baron Cohen, and that Borat! The Movie is not really a documentary, at all, instead it's a mockumentary!
We have no evidence to support those charges. However, if they are true, then ironically, it would be good news in terms of Mr. Cohen's visa status. So, don't call immigration on Mr. Cohen just yet. Specifically, the United Kingdom is a visa waiver country. So, for starters, Mr. Cohen could enter the U.S., legally, for up-to 90 days or less for tourism or business (as long as he did not commit some prior disqualifying immigration violation).
Of course, this would mean that Mr. Cohen could not qualify for the Media (I) Visa since Mr. Cohen is an actor, and not a journalist. So, if Mr. Cohen needs to stay in the U.S. for longer than 90 days, he will need another type of visa. As an actor, Mr. Cohen could possibly qualify for a P visa. Of course, if you consider Mr. Cohen to be an "extraordinary" actor, then he might also qualify for an O visa.
So you see, both Sacha Baron Cohen and Borat Sagdiyev both have practical immigration options for entering and working in the U.S. for a limited time. This would of course be different if Borat was a poor farmer from Kazakhstan who wanted to pick tomatoes.
In fact, if Mr. Cohen is deemed an actor with extraordinary ability he could possibly even obtain a green card, i.e., U.S. Permanent residency by self-petitioning because individuals with extraordinary ability (in terms of the U.S. goverrnment's criteria) have a fast track avenue to obtaining a green card, i.e., the EB-1 category.
Finally, it should also be noted that no one is actually an "illegal alien". Persons who lack U.S. immigration status are "undocumented": no one is "illegal".