This webpage reproduces the USCIS "COLOR PHOTOGRAPH SPECIFICATIONS" which define the requirements for photographs to be submitted to the USCIS for Permanent Residency, i.e. "greencard", purposes. Please be sure to check with the USCIS for any changes.
Composition Checklist
7 Steps to Successful Photos
Frame subject with full face, front view, eyes open
Make sure photo presents full head from top of hair to bottom of chin; height of head should measure 1 inch to 1-3/8 inches (25 mm to 35 mm)
Center head within frame (see Figure 2 below)
Make sure eye height is between 1-1/8 inches to 1-3/8 inches (28 mm to 35 mm) from bottom of photo
Photograph subject against a plain white or off-white background
Position subject and lighting so that there are no distracting shadows on the face or background
Encourage subject to have a natural expression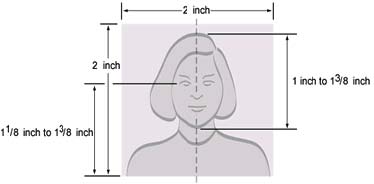 Figure 2. Head Position & Placement
Well-Composed Photos
New Photograph Requirements
General
The photograph for each applicant must be an unmounted, full face photo, as described below
The photograph(s) must be no more than 30 days old when you file your application.
All photos must be of just the person.
Where more than one photo is required, all photos of the person must be identical.
All photos must meet the specifications for full-frontal/passport photos.
Photo Size
The photo for each visa applicant submitted must measure:
2 by 2 inches (roughly 50 mm square) with the head centered in the frame.
The head (measured from the top of the hair to the bottom of the chin) should measure between 1 inch to 1 3/8 inches (25 mm to 35 mm) with the eye level between 1 1/8 inch to 1 3/8 inches (28 mm and 35 mm) from the bottom of the photo
Photo Appearance
The photograph must be a full-face view in which the visa applicant is facing the camera directly.
The applicant should not look down or to either side, and the face should cover about 50 percent of the photo area.
Side or angled views are NOT accepted.
The photograph may be in color or black and white, but must have only a white or off-white background. Photos with dark, busy, or patterned backgrounds will not be accepted.
In general, the applicant's head, including both face and hair, should be shown from the crown of the head to the tip of the chin on top and bottom and from hairline side-to-side. It is preferable that ears be exposed.
Head coverings and hats are only acceptable due to religious beliefs, and even then, may not cover any portion of the applicant's face.
Sunglasses or other wear which detracts from the face are not acceptable unless required for medical reasons (an eye patch, for example).
A photograph depicting a person wearing a traditional facemask or veil that does not permit adequate identification is not acceptable.
Photos of military, airline, or other personnel wearing hats are not acceptable. Photographs of applicants wearing tribal, national costume, or other headgear not specifically religious in nature are not acceptable.
Digital Photos
Digitally reproduced photographs must be reproduced without discernible pixels or dot patterns. Photocopied photographs are NOT accepted.
Head Position & Background
Head should be positioned directly facing the camera
Photo should capture from slightly above top of hair to middle of chest
Eyes should be open and looking at the camera
Eyeglasses should be worn if normally used by the subject
Glare on eyeglasses can usually be avoided with a slight upward or downward tilt of the head
Background should be plain white or off-white
Include headpieces if worn daily for religious purposes; they should not obscure or cast shadows on the eyes or any other part of the face
| | |
| --- | --- |
| WRONG | RIGHT |
| Head Not Facing Camera | Head Facing Camera |
| | |
| Glare on Glasses | No Glare on Glasses |
| | |
| Background Not Plain | Plain Background |
| | |