"Permanent residency status" is the type of U.S. immigration status which permits a foreign national to reside permanently in the U.S. A foreign national with permanent residency status has similar rights to a U.S. citizen (e.g., the right to accept employment) with some exceptions (e.g., only a U.S. citizen can vote in the vast majority of elections). Obtaining permanent residency status is often a precursor to obtaining U.S. citizenship.
Permanent residency status in the United States is often referred to as having a "green card", a name which was given to the document issued by the U.S. government to persons who attained permanent residency status. Although the document is no longer green, the term is still widely used. Technically, a person in this status is referred to as a "Resident Alien" by the USCIS.
Permanent residency status is also known as an "Immigrant Visa". "Nonimmigrant Visas", on the other hand, refer to temporary visas.
Obtaining permanent residency status in the U.S. is often a long and difficult process. There are, however, a number of different ways of obtaining it. This section lists the major avenues for obtaining permanent residency, below, which are links to other pages in this website. In addition, you may wish to review the List of of primary avenues to U.S. Permanent Residency ("Green Card" status).
---
Example Green Card: Front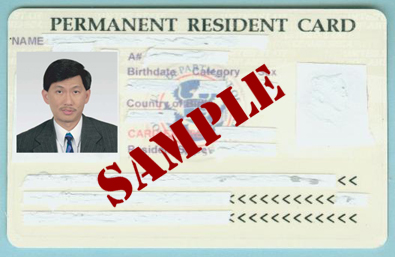 Example Green Card: Back